Principal's Welcome
Mr Andrew Fowler-Watt MA (Cantab)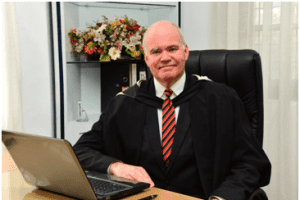 My name is Andrew Fowler-Watt, and I began as Principal of this great Institution in January 2016. However, I had been well aware of Trinity for a number of years; particularly since I was an International School Principal in Colombo from 2007-2011. Even at that time, I knew that Trinity was a school which I would love
to run one day; so I was very happy to apply when the job was advertised in 2015. When the Board of Governors subsequently interviewed me and offered me the job, I was absolutely delighted to accept. Trinity College was set up along the lines of the great English public Schools, including my own, Eton College. So I entirely empathise with an Institution which has a long and distinguished history; a rich tradition of academic and extra-curricular achievement; a boarding ethos which focuses on pastoral care, discipline and holistic development; and, importantly, a school which instils a life-long passion amongst its boys, both present and past.
For those who do not know already, Trinity College Kandy is one of the leading schools in Sri Lanka. Founded by the Church Missionary Society in 1872 in the ancient hill capital city of Kandy, it has grown into a large school of over 3000 boys (from Kindergarten through to Grade 14). Although we remain a proudly Anglican foundation, we welcome boys and teachers from all religions into the Trinity College community.
The academic curriculum is that provided by the Sri Lankan Ministry of Education, with Sinhala, Tamil and English medium classes (from Grade 4 upwards). All three languages have always played a very important role at Trinity and there has always been an understanding that it is important for boys to develop fluency and confidence both in English and in their mother tongue. English is taught to all boys by Specialist teachers from Grade 1 onwards, and all official school business (including Assemblies, Lectures, Sports' events, Presentations, Staff Meetings etc) is conducted in English. For this reason, boys leave Trinity confident in both spoken and written English. The College strongly believes that fluency in English (as well as in the mother tongue) is a vital quality for young people to possess in today's world.
In addition to specialist language teaching, Trinity endeavours to encourage its boys to think beyond the curriculum in many different ways. Just like the great British Public Schools on which it was modelled, Trinity College has always believed, that in a great school, children learn just as much about life outside the classroom as they do inside it.
When they graduate, Trinitians move onto a wide range of Universities and Tertiary Institutions both in Sri Lanka and around the world. Every year, a high percentage of boys qualify for Sri Lankan Universities through the GCE A Level Examination, including a large number who go on to the leading Universities to study subjects like Medicine, Engineering and Law.
However, in this rapidly changing world, it is very important that young people look to maximise their academic potential in a wide variety of spheres, both during and after their school years. Research reveals that most children will end up doing jobs which do not yet exist, and it is vital that both teachers and parents bear this in mind. In particular, there will be more and more jobs in technology-based and creative fields, whilst there will be correspondingly fewer in traditional professions. It is therefore vital that our boys learn to think for themselves in a critical and creative way. Simply memorising facts and rote-learning is no longer an effective preparation for success in life. Almost anything can be quickly found out through Google, for example. The secret of success in the future will be to know what to do with those facts! Governments, School Curriculum Developers, Teachers and Parents have got to realise this in Sri Lanka, before it is too late.
At Trinity, we passionately believe in educating the whole person. Of course academic results are important, and these are never forgotten. However, our aim is for Trinitians to achieve these in addition to becoming well-rounded, fulfilled, confident, disciplined young men. Education should be stimulating, enriching and enjoyable; only then will pupils fulfil their potential in the long run.
Education at Trinity is a transformational process that guides boys towards becoming independent learners and thinkers; the sort of young men who will naturally become the next generation of Sri Lankan leaders. Whilst they are at Trinity, our hope is that all boys acquire intellectual ambition, clear moral values, leadership qualities and a readiness for their adult lives. Whilst gaining these valuable life-skills, I also hope that our students make friends for life and eagerly look forward to the challenges that each new school day brings. This includes our massive programme of extra-curricular activities, many of which (from the Chapel Choir to the Scouts) have been practised at Trinity for well over 100 years. There are well over 100 Clubs and Societies at Trinity, ranging across Junior, Middle and Upper Schools. They provide learning experiences, discipline, enrichment and enjoyment to all boys.
Sport has always played a very important role at Trinity, and boys of all ages are expected to take part in some sort of physical activity at school. Whilst Trinity is probably best known for its Rugby and Cricket, the College also has a very proud history in a wide variety of sports, and it regularly wins All Island Competitions in sports ranging from Athletics and Badminton through to Boxing and Weight-Lifting. And it is important to note that coaching in a huge range of sports begins whilst boys are in the Junior School at Trinity. This gives them plenty of opportunity whilst still young to decide which sports suit them best or which they enjoy the most.
All schools are unique, of course; but the longer I am at Trinity, the more unique I believe this particular school to be! On the one hand, with an educational ethos and structure based closely on the leading British Independent Schools, our boys are encouraged to question, assert, lead and think for themselves. On the other, we are nestled right in the heart of Sri Lanka, with its proud history of respect, morality, creativity and discipline; not to mention a rich tradition of religious and ethnic variety and tolerance. That is part of our uniqueness. It also helps that we have a glorious Campus. In addition to a wide range of Classrooms, Halls, Laboratories, Libraries, Arts facilities, Boarding Houses and Administration buildings, we also have a School Chapel believed by many to be one of the most beautiful buildings in the country. Beyond the main campus, Trinity is proud to have its own Farm, a magnificent Rugby Stadium, and the world-renowned Asgirya Cricket Stadium - Trinity College is the only school in the world to own a Test Match Cricket Stadium and we are proud to have produced many outstanding cricketers over the years.
For almost 150 years, Trinity College has put its boys at the heart of everything it does. I am thrilled to be Principal at a school where this is the case; and which focuses so hard on the well-being, nurturing and enrichment of its students, both inside and outside the classroom.
Andrew Fowler-Watt